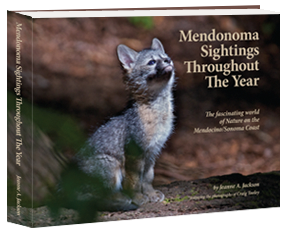 What you have in the 270 pages of Mendonoma Sightings Throughout the Year is the essence of the most popular nature column on the Mendocino/Sonoma Coast—Jeanne Jackson's Mendonoma Sightings.
It is also the essence of the Coast itself, a magical environment filled with hawks and whales and cougars and butterflies, giant redwoods and tiny forest orchids. All in place where the land meets the Pacific Ocean. All changing, sometimes subtly, sometimes spectacularly, from month to month, season to season.
Now in its eighth year in the Independent Coast Observer (the "ICO" to one and all), Jeanne's column fills at least a page each week. It isn't enough, either, for its fans or its contributors. To accommodate contributions by her private army of observers, Jeanne established the blog you see here for photos and sightings. Still not enough. Why? Because living on the Mendonoma Coast means seeing and hearing and sharing the endless display of nature at its most vivid.
And so, it is time for this book, structured as we experience the world it covers month by month. Here you will find:
More than 250 full color photos
First-hand accounts of wildlife encounters
Fun facts about owls and ospreys, mushrooms and mountain lions, orcas and river otters, fogbows and Fata Morganas, and more
Links to specialized nature websites
Pointers to local trails and hidden view spots
The scientific and common names of plants and animals
Maps of the Mendonoma Coast
Whether you are a visitor to this beautiful place, or someone privileged to live here, this book has an enchanting treat for you. Pick a month—perhaps this month, or one that lingers in memory, or one to which you are looking forward. Find it in these pages. Settle into what it has to tell you about the time you've chosen on the wild and exciting northern California Coast. And you are there.
You can order a copy online! Fill in the space below if you'd like a custom inscription, then click "Add to Cart." The cost is $34.95 plus tax, if applicable. Shipping is free!