Larain Matheson stopped on a trip down the coast to photograph this lovely sight through her windshield. You can see the Russian River entering the Pacific Ocean. And the headlands are draped in fog.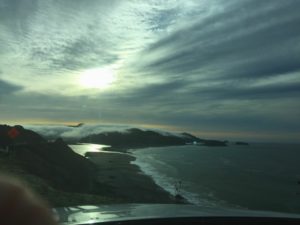 Highway One, with it's curves and cliffs, can be scary for some to drive. Many of us who live on the Mendonoma coast just resolve to take our time and enjoy the beautiful vistas.
This afternoon we are getting a little rain. As it hasn't rained in February before today, we are grateful for any wet stuff Mother Nature gives.
Thanks to Larain for allowing me to share her photo with you here.