Doug Forsell just sent this in:
"I was out on Manchester Beach yesterday (Friday Oct. 6) at about 5:30 PM walking south from the Stoneborough Road entrance, and about 500 yards from the mouth of the river, I came upon a raccoon feeding at the edge of the surf. Wanted to get a picture so I slowly walked towards it.  Kept expecting it to run away, but even after it saw me it continued to feed. I was about to walk away when it finally turned towards me, hunched its back and began acting very aggressive. It even made a couple of charges towards me, of about 5 feet.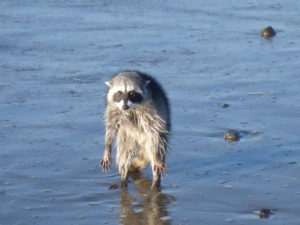 I continued south and every once in a while looked back with my binoculars and the animal remained vigilant with his back raised watching me for about five minutes until I disappeared from sight. Any normal animal would certainly have run for the dunes so I suspect this animal may have rabies or some serious mental issues.
Thought you might want to put a notice on your blog to let people know that there may be a rabid raccoon in that area. Especially important for those who take their dogs to the beach. While of course dogs are supposed to be on leashes, most of the dogs I see there are not on leashes.  I think that raccoon could do serious damage to the biggest dog."
***Please keep your dog on leash while on Manchester Beach until this Raccoon is found and tested.***
Thanks to Doug for the warning and his photo too.