The mating season of the Black-tailed Deer is called the rut. And this is the time the Bucks are here to claim their Does. And the Does aren't always crazy about the idea, running away in all directions. This time of year sees many Deer hit by cars as the females run in unpredictable ways.It would be a good idea to drive a little slower now.
Claire Feury found a Buck outside her kitchen window recently. He looks to be "talking" to her.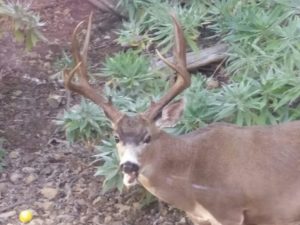 Thanks to Claire for allowing me to share her photo with you here.