Grace O'Malley spotted this Hummingbird Moth, Macroglossum stellatarum, in her garden near Timber Cove. In Grace's first photo you can see the very long tongue of this moth.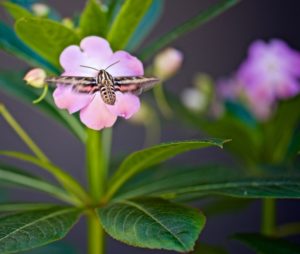 Grace wrote,"A Hummingbird Moth appeared in my garden, hovering around and sipping nectar from the Giant Impatiens.  The U.S. Forest Service advises 'like most moths, they have a very long tongue which they carry rolled under their chins' and unfurl to reach the nectar of the long-necked flowers they prefer."
These spectacular moths are most often seen around dusk. Thanks to Grace for allowing me to share her photos with you here.
The Mendonoma coast is free of smoke from the terrible fires. Many evacuees have come here and their stories are heartbreaking. Rain is in our forecast for next Wednesday. We hope it will come sooner than that and put out all the fires.