I can't resist sharing such beauty with you. Photographer Paul Brewer was in Jenner when the sunset looked like this.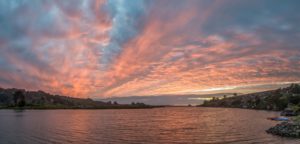 Breathtaking, don't you think?!
We had some welcome rain yesterday morning. We had .17 inch in our rain gauge. Not much, that's true, but September rain is always a boon.
Thanks to Paul for allowing me to share his photo with you here. To see much more of Paul's nature photography, here is his website: http://www.capturingnatureswonders.com/