A storm out over the ocean is predicted to bring high surf and dangerous riptides beginning tonight. You know you should never turn your back on the ocean, right? Once in a while, a sneaker wave can come way in and surprise you. Don't be that person!
Anne Mary Schaefer captured a beautiful photo of the ocean and what she calls a "roiling sunset surf."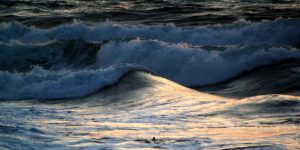 Anne Mary photographed this at Manchester Beach. Time will tell if the high surf warnings bring us a roiling ocean. Perhaps Anne Mary will be out with her camera to document it.
Thanks to Anne Mary for allowing me to share her photo with you here. She is also a talented pet photographer. She photographed our rescue golden retriever, Sunny. To see her website, here is the link: http://www.pawpawrazzipetphotography.com/
Here's a photo of Sunny taken by Anne Mary. An action photo taken at Schooner Gulch Beach. I love it!