On Sunday, two mature Bald Eagles were seen on the sandbar of the Gualala River and Chris Beach photographed them. One of his photos will be in this week's Independent Coast Observer in my Mendonoma Sightings column. His other two photos I share with  you here.
The first photo shows a nice flyby of one of the Bald Eagles - just magnificent.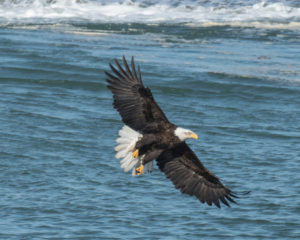 And the second shows one of the Bald Eagles bringing an Eel back to where the other Eagle waits.
Are they a mated pair? No nest has been found...yet!
Thanks to Chris for allowing me to share his photos with you here.