Craig Tooley watched these two Deer, a Doe and her yearling, walking over rocks at low tide on April 1st. Craig joked that they might be abalone picking, and that the mother Deer might be named "Jane Doe."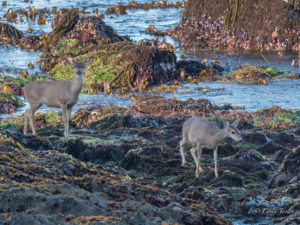 April 1st is usually the opening of Abalone season, but this year the season doesn't open until May 1st.
We have a beautiful day after rain in the early hours. We have had an amazing 73+ inches of rain so far this season.
Thanks to Craig for allowing me to share his photo with you here. To see much more of Craig's nature photography, here is the link to his website: www.ruffimage.com