On Valentine's Day, Paul Brewer photographed this lovely scene.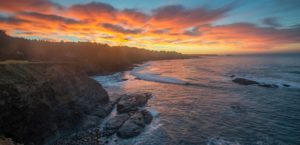 The colors of sunrises are so fleeting, but can be so very beautiful.
A storm is approaching the coast. Yesterday we had sunny, warm weather, a balm after all the rain. But we have a storm coming in late tonight. Saturday is predicted to be rainy. Well, it's still winter, after all!
Thanks to Paul for allowing me to share his photo with you here. To see much more of Paul's nature photography, here is the link to his website: http://www.capturingnatureswonders.com/