There is a beautiful waterfall at Stengel Beach, which you can reach using the public access trail on The Sea Ranch. Allen Vinson recently photographed it.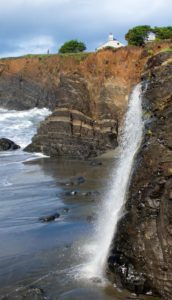 To learn more about the Stengel Beach access, here is the link to Sonoma County Regional Parks: http://parks.sonomacounty.ca.gov/Get_Outdoors/Parks/Stengel_Beach_Sea_Ranch_Access_Trail.aspx
Our sunny days, as seen in Allen's photo, look to be over, as cold and cloudy weather has arrived. And more rain is headed our way too.
Thanks to Allen for allowing me to share his photo with you here. To see much more of Allen's nature photography, here is the link: http://allenvinson.smugmug.com/