Peter Baye wrote, "I found a new rare plant at the Stornetta Lands along the P'da Hau [Garcia] River estuary last week, Humboldt Bay owl's clover, Castilleja ambigua, subspecies humboldtiensis."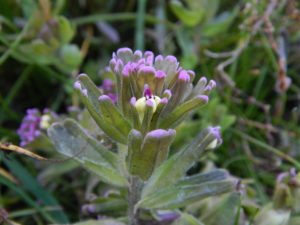 This plant is found in tidal marsh locations and was originally thought to be endemic to Humboldt Bay, hence its common name. But it's been found in Mendocino County at Big River. And now it's been found at the Point Arena-Stornetta Lands.
Peter wrote further, "The surprises of the Stornetta Land's varied habitats have only been open to botanical exploration for a few years. Perhaps more botanical gems await discovery!"
Thanks to Peter for allowing me to share his photo with you here. I look forward to new discoveries in the special Stornetta-Point Arena Lands.