We had an unexpected storm move in late Thursday and into Friday. We received 1.25 inches of the wet stuff at our house. It's unusual to have significant rain here in the middle of June. At the end of the storm, at dusk, a double rainbow appeared. Paul Brewer caught this event with his camera.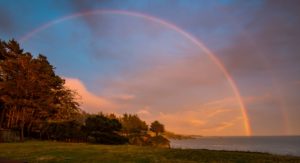 I saw this rainbow through trees. It's pretty rare to see one late in the day - it had many of us gasping in awe.
Here is another double rainbow that Paul took some time ago.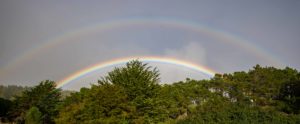 Thanks to Paul for allowing me to share his photos with you here. To see much more of Paul's nature photography, here is the link to his website: http://www.capturingnatureswonders.com/