Hearn Gulch is one of the newer public access places brought to us in part by the wonderful Redwood Coast Land Conservancy [RCLC]. Rick and I were there recently when the blowhole was going off.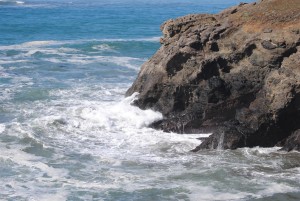 When the blowhole goes off it makes a "whoomp" sound - it's quite exciting to be there when this is happening.
You can learn more about Hearn Gulch and other beautiful beaches and trails at RCLC's website: http://www.rc-lc.org/ Every new public access spot is to be cherished. Thank you, RCLC!