The Salal Trail is rather hard to find. The trailhead is in Gualala Point Regional Park. After you pass the pay station, turn into the parking area on the left and park in the right side. To your left you will see the beginning of the trail.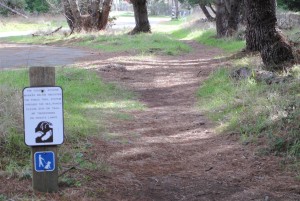 You amble down a path between Highway One and the golf course. The trail then heads west. Rick and I, along with friends C'Anna and David Bergman-Hill and our new rescue golden retriever, Sunny, recently enjoyed the trail.
We found summer wildflowers in bloom. Here David has photographed C'Anna and me finding Wight's Paintbrush.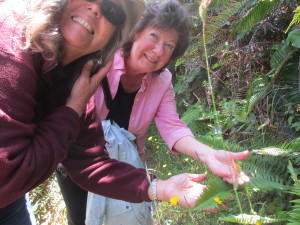 Here's a close-up of this native wildflower, photo by Craig Tooley.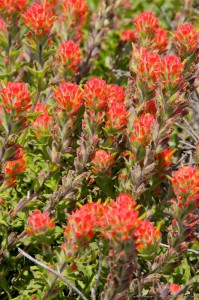 We came to the waterfall and even in the drought there is a slight trickle. When the winter rains come, the waterfall is glorious. Here's are two photos I took a few years ago. It's really a magical place.
Finally, at the end of the trail, you come to a small beach, which is where Rick and Sunny are. This photo was taken by C'Anna.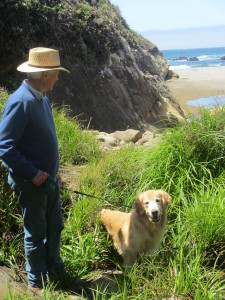 We feel very fortunate Salal Trail is a public access trail. There is no other quite like it!
Thanks to C'Anna, David, and Craig for allowing me to share their photos with you here. To see much more of Craig's nature photography, here is his website: www.ruffimage.com.