On June 3rd a magnificent halo appeared around the sun. A friend pointed it out to me when I was in Gualala around noon. Several photographers recorded the event. Here's a photo taken by Shana Becerra.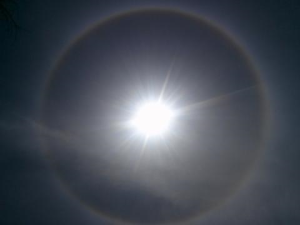 A halo often is a predictor of rain. Another photo of this phenomenon will appear in the Independent Coast Observer in my Mendonoma Sightings column, which comes out today. It was taken by Paul Brewer and it's quite stunning.
Thanks to Shana for allowing me to share her photo with you here.