I'll let Massomeh Roberts tell the story:
"I saw a large Great Blue Heron on the bluff overlooking Black Point Beach. It was moving very slowly, focused on the ground. All of a sudden its head was down into the ground, and it came up with a Vole! I had my camera ready, and snapped the shot as the bird was getting ready to take off."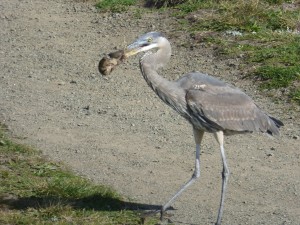 Great Blue Herons are year round residents of the Mendonoma Coast. They are a treat to see. When they fly, their neck is an aerodynamic "S" shape. Marianne Rittenhouse photographed this.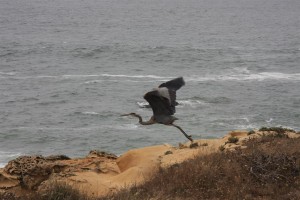 This "S" shape also allows them to strike at prey very quickly.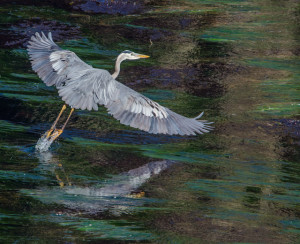 Here is one of my favorite Great Blue Heron photos, taken by Paul Brewer. It is titled "And we have liftoff!"
Thanks to Massomeh, Marianne, and Paul for allowing me to share their photos with you here. To see much more of Paul's nature photography, here is his website: http://www.capturingnatureswonders.com/