Roger Rude wrote, "It has been a month since I have ventured into the sea, that is a long stretch for me. It seems like she has been angry, perhaps for the way we have been treating her, throwing tantrums of waves and storms. Today she was at peace, befitting of her name "Pacific", enticing me to come to her and play, explore and rejuvenate my soul.
Abalone season is closed, so I brought my new kayak, a Pedal Mirage Drive Hobie Outback Kayak, along with another for my friend Jack Likins, to test them out, explore new dive sites and perhaps spear a fish for dinner. Conditions were lovely, flat water, sunshine, a beautiful day. I could see the spouts of whales traveling south about a mile off shore. [Below is Jack Likins trying out the new kayak.]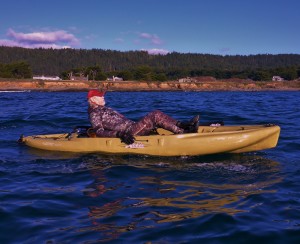 We launched somewhere near Gualala and pedaled our way north. Yes, I said pedal, not paddled. These kayaks are equipped with a unique pedal drive that propels them through the water nearly effortlessly at a speed faster than we could have paddled.
We arrived at the area we wanted to explore and dropped into interspace. The visibility was around 20 feet over a boulder strewed bottom. Very few fish were about probably due to the full moon and a night of feeding. I was looking for a black rock cod for dinner and I found her sleeping in a cave. Dinner provided for I began to explore. In the next fifteen minutes I found not one but two abalone measuring close to 10.5 inches.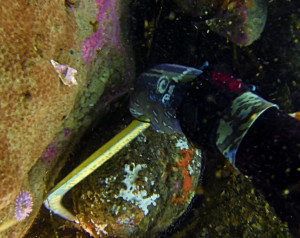 I wear a GoPro camera on my head and I video record my dives so I can review them later, for posting on the Internet and for occasions like this. I surfaced and recorded landmarks above the water, as well as on the bottom, in hopes of relocating these two trophy-sized abalone in April when the season reopens.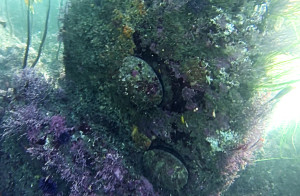 While heading back to our launch sight we were briefly surrounded by half a dozen sea lions porpoising through the water in the other direction. They were moving fast and only briefly slowed down to take a look at us as they past, too fast to get a photo of them. I had heard there was a pod of Orcas in the area and I wondered if this was the source of their frantic pace, but I saw no sign of them.
Another beautiful day in the sea off of the Mendonoma coast, another adventure experienced with the lure of a fruitful one in the future. Standing on shore I shared a beer with my buddy. Once again a terrestrial being looking out at my mistress the sea, my spirit is full and my soul is at peace."
I thank Roger for giving us this look into the world most of us will never see. And thanks also for allowing me to share his photos with you here. Here is a photo of Roger after a very successful abalone dive. The photo was taken by his buddy, Jack Likins. These are two ten+ inch Abalones.