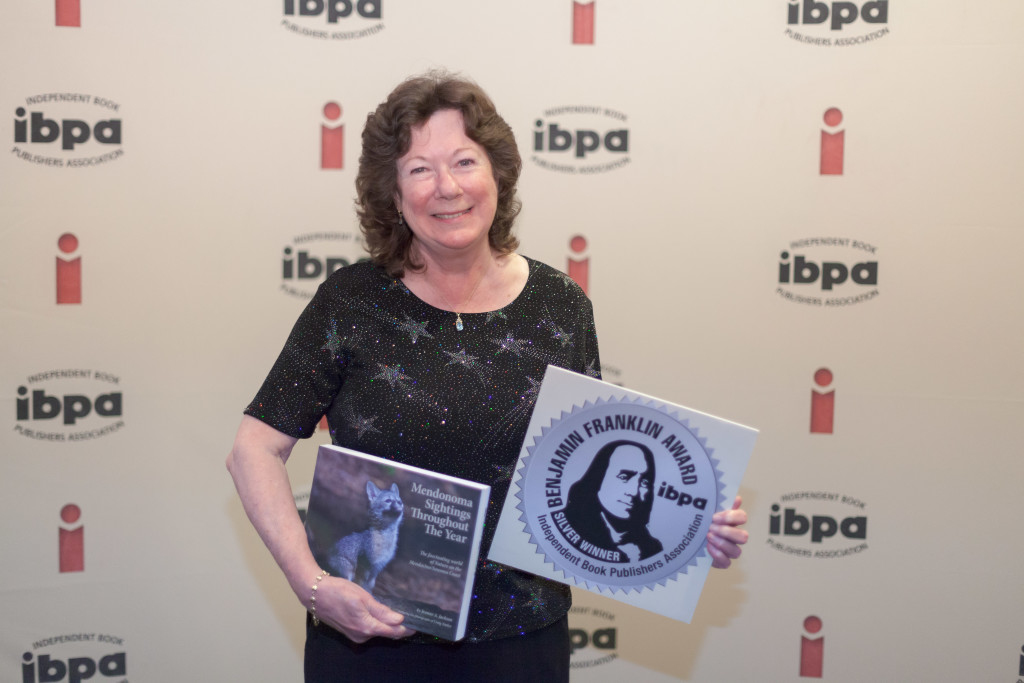 Mendonoma Sightings Throughout the Year has been honored by several different organizations. The book has received:
• a Gold Award in the category "Nature" in the 2015 National Indie Excellence Awards
• a Silver Award in the category "Nature & Environment" in the 2015 Benjamin Franklin Book Awards
• a Bronze Award in the category "West – Pacific Best Regional Non-Fiction" in the 2015 Independent Publishers Book Awards

Mendonoma Sightings Throughout the Year has also received reviews from Tom Stienstra of the San Francisco Chronicle (including a 39-image slide show), Donovan's Literary Services and, as reprinted below, The Lighthouse Peddler.
Mendonoma Sightings Throughout The Year by Jeanne A. Jackson
Book review by The Lighthouse Peddler
Several fine books profiling aspects of life on the coast have been published by local authors, and each has its own distinct style and content. Most recently we have seen Merita Whatley's book about the Point Arena Lighthouse and Donlyn Lyndon and Jim Alinder's book featuring the architecture of The Sea Ranch.
Now coast resident Jeanne Jackson has put together a book that celebrates our local fauna and flora. Mendonoma Sightings Throughout The Year features more than 250 spectacular color photographs primarily by local photographer Craig Tooley. It is a beautiful display of the outdoor life of our area.
The book was two years in the writing, but it is a result of Jeanne's eight years as a columnist for the Independent Coast Observer. Her popular column, "Mendonoma Sightings," features submissions by the paper's readers of photos and other observances of our biologically diverse area.
The book is organized month by month and presents plants and wildlife that are typically seen during those months. It is interesting to note that she begins the year in March, which is the first sign of the Zodiac and beginning of the astrological year.
In addition to the stunning photographs, there are over 80 brief stories that accompany some of the photos of the sightings reported to her by her readers. Further, there are many short bits of information about the subjects that she calls "Fun Facts."
Craig Tooley contributed over 200 images from his collection of nature photography and some shots were taken specifically to illustrate this book. 27 other photographers, many of them local, contributed photos as well.
The front and back covers both fold out to provide nicely scaled maps of the coast created by local cartographer Rixanne Wehren to guide those unfamiliar with the coastal area. There are also pointers to local trails and hidden view spots and links to specialized nature websites.