Wendy Baily saw this big, male Elephant Seal haul out onto the boat ramp at Anchor Bay Beach. He promptly feel asleep.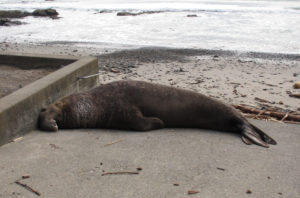 A couple of men decided to go over and chase him off. But when they got close and saw how big he was, they changed their minds - good decision! Anyway, he looks so peaceful and relaxed so why disturb his rest?
Thanks to Wendy for allowing me to share this fun photo with you here.
Today fog is draped over the ocean, but it's sunny and warm when you are away from the fog. 77 degrees this afternoon at my house in Anchor Bay. Spring in winter!