Salt Point State Park is know for its tafoni. Tafoni are also called "swiss-cheese" rocks. Beth Kattleman recently photographed tafoni with the wildflower, Seathrift, blooming in the foreground.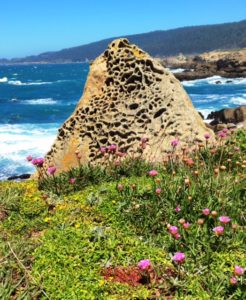 The natural rock cavities are caused, in part, by the salt spay of the ocean's waves.
Thanks to Beth for allowing me to share her photo with you here. We are getting a few drops of rain today, and then...and then...sunny, warm weather is the prediction for this weekend!