Rick and I had a Steller's Jay nest just outside one of our doors. It was in an abelia bush, a lovely flowering bush that Monarch Butterflies love. The chicks left the nest yesterday and were standing a few inches away. I photographed this chick as he/she stood perfectly still.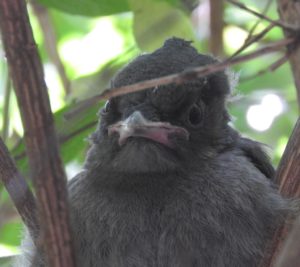 John Batchelder, a Sightings contributor, sent in a photo of Pacific Wren fledglings. He made the comment that their beaks are too big for their heads. Well, that's definitely the case here too! Don't worry, this chick will grow into its beak. This is what the Jay will look like when it is mature. This great photo was taken by Robert Scarola. Thank you, Robert!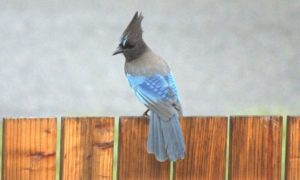 It's warm and breezy again today. Amazingly enough, there is a storm forecast for late tomorrow/early Thursday. We don't often get storms from the north in June! But after the drought, the rain is always welcome. Forecast for the weekend, if you'd like to plan a trip here, is fabulous!