Scott and Tree Mercer are studying marine life off the Mendonoma coast. One of the most productive sites is the bluffs of the Point Arena Lighthouse. Scott recently photographed Tree on the bluffs. She was helping spot whales.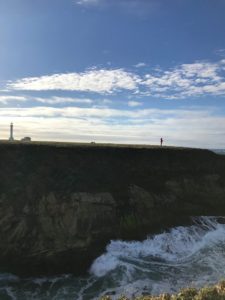 The Mercers post their daily sightings on Facebook at Mendonoma Whale and Seal Study. Here is the link: https://www.facebook.com/Mendonoma-Whale-and-Seal-Study-1421926098039236/
They also share their sightings with other research groups, and fortunately with me, for my weekly Mendonoma Sightings column in the Independent Coast Observer. Recent sightings have been young Gray Whales feeding off the coast, and several Humpback Whales about 3 1/2 miles out.
I thank Scott for allowing me to share his photo with you here.