Milkmaids, Cardamine californica, are members of the Mustard Family. They are one of the earliest blooming wildflowers on the Mendonoma coast. Jinx McCombs recently found one in bloom.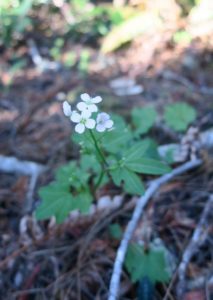 Western Trilliums, Trillium ovatum, are up too! Rick and I found a half dozen today in the forest. Members of the Lily Family, they are sometimes called Wake Robin because their bloom can coincide with American Robins returning from their wintering grounds. Here is one just appearing on the forest floor.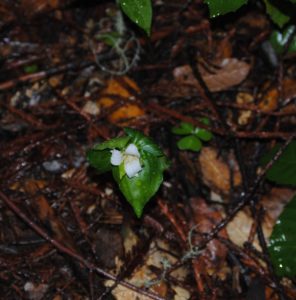 Native wildflowers are a treat to find. Thanks to Jinx for allowing me to share her photo with you here.
We are having warm, dry weather. It doesn't feel like winter here on the Mendonoma coast today. No rain in the forecast for the next week. We may have to start planning for a rain dance.