Grace O'Malley photographed this Song Sparrow perched on a rock, singing.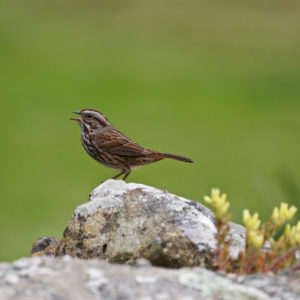 We had warm, dry weather for December. Perhaps this sparrow thought it was spring and time to sing for a mate! He will be hunkered down today as we have some much needed rain.
These sparrows have a sweet call, which you can listen to at this site: https://www.allaboutbirds.org/guide/Song_Sparrow/sounds
Thanks to Grace for allowing me to share her photo with  you here.