Marilyn Green noticed Jellyfish washed up on the beach on Saturday. She wrote, "There were at least 50 on Pebble Beach on The Sea Ranch. Some were in the water and looked healthy to me!" I sent Marilyn's photo to Robert Van Syoc and he identified it as a Moon Jelly, Aurelia aurita. Marilyn's photo shows the four pink reproductive glands.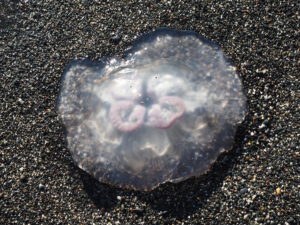 These Jellyfish are capable of very little motion and are dependent on where the tides take them. For the 50 or so on the beach, the tides took them the wrong way.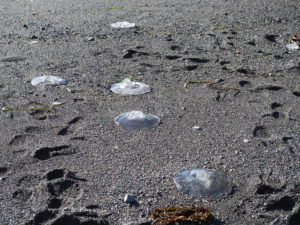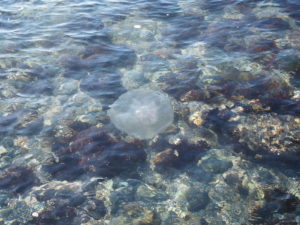 This third photo shows a Moon Jellyfish safe in the water.
Thanks to Marilyn for allowing me to share her photos with you here.