Rick and I, along with our golden retriever Sunny, visited the Walk On Beach public access trail on The Sea Ranch. Sonoma County Regional Parks made the Sea Ranch public access trails free to the public recently. What we found when we reached the bluffs had me exclaiming! It was thrilling to see and hear the big waves crashing against the rocks. Yes, it was foggy, but that didn't bother us.
The sounds of the big breakers were amazing and watching the breakers crash against rocks was mesmerizing.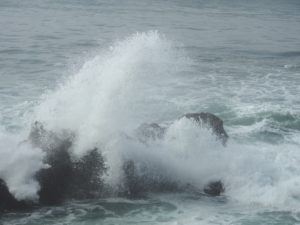 Big Breakers off Walk On Beach by Jeanne Jackson
Big rollers off Walk On Beach by Jeanne Jackson
Here are a couple of short video clips. Enjoy! The sun did come out for the afternoon. And rain is in our forecast for later next week. That would be a blessing!