These late season heat waves make everyone nervous as we wait for the rains to begin in. Before the last hot weather enveloped the coast, Paul Brewer was on the Jenner Grade when he saw this beautiful sight.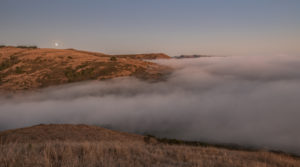 You can see the full moon peaking up over the ridge as fog rolls in from the ocean.
Thanks to Paul for allowing me to share his photo with you here. Would you like to see one of my favorite Paul Brewer photos? Paul caught the setting sun shining through the sea tunnel just as the blowhole went off at Hearn Gulch.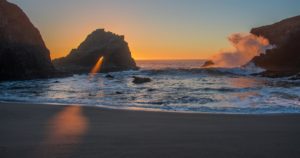 Paul sells his work at the Dolphin Gallery in Gualala and other art galleries on the coast. You can see much more of his nature photograph at this site: http://www.capturingnatureswonders.com/