Cooks Beach, just north of the town of Gualala, has a large pocket beach, a creek for little ones to play in, and a beautiful view of the Pacific Ocean. It's a perfect place to go to see the sunset. Eric Duff did just that a few weeks ago.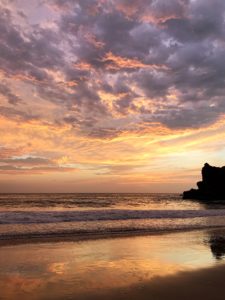 I love the reflection on the wet sand. Thanks to Eric for allowing me to share his photo with you here. To learn more about Cooks Beach, here is the link to the Redwood Coast Land Conservancy: http://www.rc-lc.org/
Some smoke has flowed into the coast from the inland fires today. It's not too bad, but you definitely can smell smoke. There are a lot of evacuees here, and we are trying to help them as best we can. We pray the rain in our forecast materializes. It is forecast for late Wednesday. Rain would be such a boon for Northern California.