This is the time of year we have daily sightings of Monarch Butterflies. These are the members of the Methuselah generation, the longer-lived butterflies that will migrate south. They are feeding and gathering strength for their migration. I saw this one feeding on my abelia bush and then resting on a nearby leaf.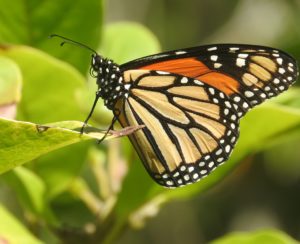 Catherine Miller photographed this Monarch feeding on her lantana.
Today is the autumnal equinox. What better way to celebrate the changing of the seasons with photos of Monarch Butterflies.
Thanks to Catherine for allowing me to share her photo with you here. Happy autumn, everyone!