Eric Duff was at Cooks Beach to experience the beautiful sunset we had last Saturday, Sept. 9th.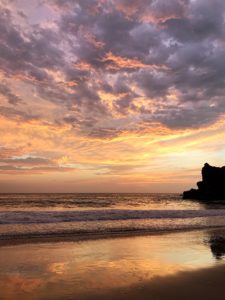 To see the colors of the sky reflected in the water on the sand is special. And I thank Eric for allowing me to share such beauty with you here.
The weather looks fine for the weekend and the Mendonoma coast beckons you. If you'd like to find Cooks Beach, here is the website to the Redwood Coast Land Conservancy. http://www.rc-lc.org/
You will find directions for Cooks Beach, plus another of my favorites, Hearn Gulch, and the Gualala Bluff Trail. Rick and I, along with our golden retriever, Sunny, walked the GBT yesterday. A Gray Whale was seen just off the kelp beds. We always see something from this trail. Thank you, RCLC!