Anne Mary Schaefer knows a beautiful setting when she sees one. She recently photographed the sea stacks off of Elk, one of the most photographed spots on the coast. I always marvel at this sight when driving by.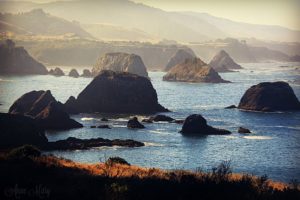 Anne Mary has a talent for capturing the magic light. and I thank her for allowing me to share this photo with you here. Anne Mary is also a talented pet photographer. Here is her website: http://www.pawpawrazzipetphotography.com/
It is hot, hot, hot here on the coast today. Someone must have left the heater on! We are not used to such hot weather here, where the Pacific Ocean usually has a cooling effect. As I post this at 1 pm, it is 96 degrees at our place in Anchor Bay. 96 is the highest it has been since we moved here over 21 years ago. We are obviously going to break that not-so-fun record. Bring back our fog!!!