I've been working on an article about dragonflies and I've learned so many interesting facts about them. They evolved over 300 million years ago, long before dinosaurs. Craig Tooley sent along several photos that he has taken over the years. One of them was this beauty, which Kathy Biggs identified as a Variegated Meadowhawk.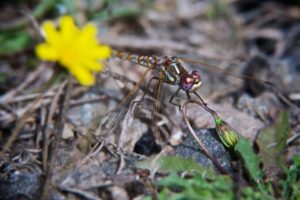 My, what purple eyes you have, Variegated Meadowhawk Dragonfly!
Here's a photo I took of a Flame Skimmer, which landed on top of a sprinkler head in my garden, and posed long enough for me to get a photo.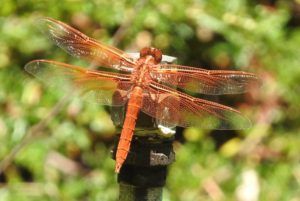 Then the dragonfly, moved, turned around, and let me get a photo of the back.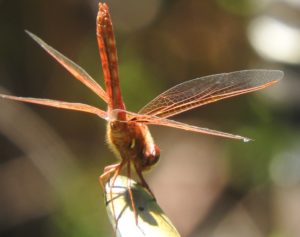 I love these creatures! Kathy Biggs has a great booklet out entitled "Common Dragonflies of California, a Beginner's Pocket Guide." I highly recommend it.
Thanks to Craig for allowing me to share his photo with you here. You can see much more of Craig's nature photography at www.ruffimage.com