Bill Clark photographed this big bank of fog recently - it does look like a mountain range out over the Pacific Ocean.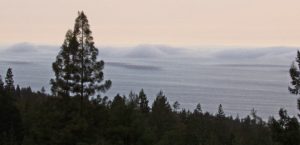 Here on the Mendonoma coast, August is often called "Foggust." To see yesterday's eclipse, coast residents had to head far inland, or get to a higher elevation. Rick and I took a hike in our forest during the eclipse. It seemed as if a storm was coming in, as the foggy day got darker and darker. The birds didn't seem to be affected by the eclipse, as their calls were heard through the dark event.
Thanks to Bill for allowing me to share his photo with you here. And I'm happy to report the sun appeared this afternoon! Should be a wonderful weekend coming up.