Beth Kattleman wrote,
"I went on a hike to Bowling Ball Beach with my friend, Margaret Lindgren, owner of Unbeaten Path Hiking Tours. It was Marg who pointed out this beautiful patch of Coast Buckwheat just we entered the beach from the north side.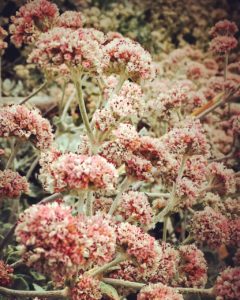 "It was a gorgeous morning – calm sea, low tide, and puffs of lingering fog. Marg also pointed out the sandstone concretions and other geomorphic marvels as we walked the length of Bowling Ball, while she also identified the various Seaweeds that were scattered on the rocky shore.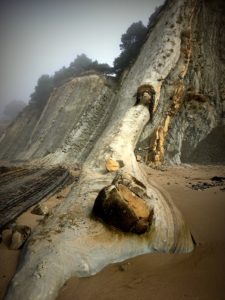 "I'm lucky to have such a knowledgeable friend! We then hiked the bluff trail between Bowling Ball and Moat Creek, and saw a handsome Osprey perched on a precipice!"
Bowling Ball Beach is found at Schooner Gulch State Park. To learn more about one of my favorite State Parks, here is the link: https://www.parks.ca.gov/?page_id=446
And to learn more about Margaret's Unbeaten Path Hiking Tours, here is the link to her website:
http://www.unbeatenpathtours.com/
Thanks to Beth for allowing me to share her photos with you here.