The Gualala River usually closes in the spring, after the winter rains. A big sandbar always forms at the river mouth, and the river then backs up and fills to the brim. We've been waiting and waiting for this to happen this year, and it finally happened mid-week.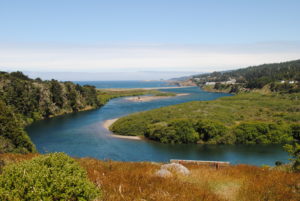 Here is what the river looks like when it is closed - just beautiful.
Craig Tooley took this aerial photo of the closed Gualala a few years ago.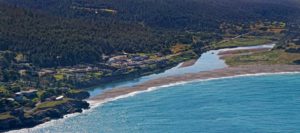 You can see the big sandbar stretching across the river's mouth. Some of the river seeps through the sandbar and some of the water will evaporate, as the river slowly loses water. Now is the perfect time to kayak the river.
Fun fact: When the river is closed, the water at the mouth is called a lagoon. When the river is open, the water at the mouth is called an estuary.
Thanks to Craig for allowing me to show his aerial photo. To see much more of Craig's work, here is his website: www.ruffimage.com