The Black-tailed Deer usually begin birthing their fawns around the first of May. Clay Yale photographed twins, quickly following their mother down a road on The Sea Ranch.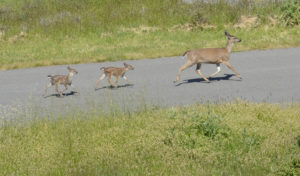 Pam Powell photographed a Doe in the process of molting. This time of year, Deer lose their winter coat and grow in a summer coat. They can look quite patchy for a while, as the hair doesn't grow in evenly.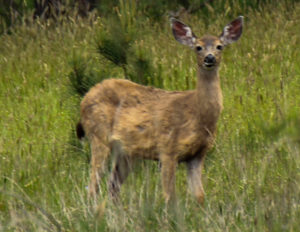 And, my, what big ears this Doe has! Thanks to Clay and Pam for allowing me to share their photos with you here.
It is cool, sunny and breezy on the coast today, after overnight showers. Beautiful clouds are scooting across the sky, making it hard to turn away from the show.