Craig Tooley and Amy Ruegg trained their cameras on a strange-looking black fungus, which turned out to be Velvety Black Earth Tongue, Trichoglossum hirsutum.
Amy Ruegg photographed several Earth Tongues.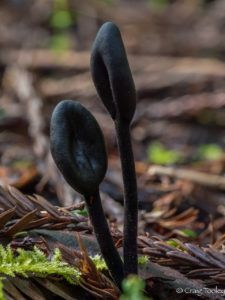 In David Arora's book "Mushrooms Demystified," he states that they are common in our area, which doesn't explain why I've never spotted one. He does go on to say they are hard to spot, making me feel a little better. Possibly edible, but Arora says they are much too tough to eat. The velvety texture, Arora writes, comes from hundreds of minute hairs.
Thanks to Craig and Amy for allowing me to share their photos with you here. To see much more of Craig's wildlife photography, here is his website: www.ruffimage.com