Yes, we are having a rainbow day, plus rain, hail, cold and wind. It's a wait-five-minutes kind of day, as the weather changes from sunny skies to dark clouds before you know it.
Lloyd Chasey captured this beautiful double rainbow from his home north of Gualala. What a great way to start his day...or to make a wish!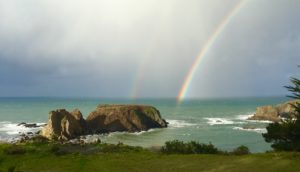 Thanks to Lloyd for allowing me to share his photo with  you here.