Chris Beach recently photographed two adult Bald Eagles sitting on snags in the Gualala River.
Around the same time, a young Bald Eagle, was seen near the river mouth.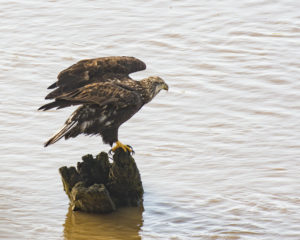 Perhaps by next year this Bald Eagle will be a mature with a totally white head.
A mature Bald Eagle was seen flying over the river this Friday, and we are encouraged by all these sightings. Our hope is that a pair will mate in the watershed of the Gualala River.
Thanks to Chris for allowing me to share his photos with you here. It is a spectacular day on the Mendonoma Coast today. Gray Whales have been seen to add grace to this day.