Ken Bailey caught this action near the Gualala River. The bird on the left is an adult Peregrine Falcon and the bird on the right is a juvenile. Perhaps the adult is teaching the younger bird some important lesson.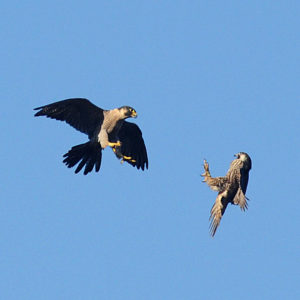 It seems like the younger bird is thinking, "YIKES!"
We had two nests of Peregrine Falcons successfully breed here this year. Here's a photo taken by Michael Beattie of the two chicks in a nest off the Point Arena-Stornetta Lands.
Thanks to Ken and Michael for allowing me to share their photos with you here. To see much more of Ken's photography, especially his underwater photography, here is the link to his website: http://www.seadreams.org/