Rick and I took a walk with Sunny, our golden retriever, at Gualala Point Regional Park. When we got to the bluffs, we could see the magnificent waves, with big rollers coming in.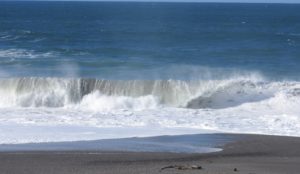 The spray drifted up to the bluffs were we stood and we got a little salt-water blessing. A little further along the bluffs, I took this video of a couple of waves coming in.
We have a pretty big storm coming in late on Friday. The Pacific Ocean is showing us in advance that changes are afoot!