I keep looking for this wonderful edible mushroom year after year, but I've never found one. Alex Kun hit the jackpot when he found this bounty of Boletus appendiculatus, Butter Boletes.
UPDATE: David Arora let me know that this mushroom's scientific name has been changed. It's now classified as Butyriboletus persolidus. To read more about these mushrooms, here is a link to Arora's article titled "Clarifying the Butter Boletes" - http://davidarora.com/uploads/Clarifying_the_Butter_Boletes.pdf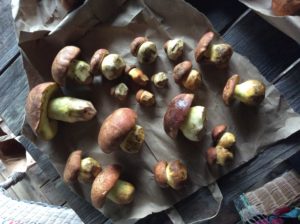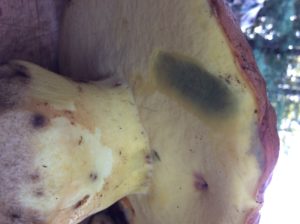 Alex wrote, "Behold the elusive and relatively rare Boletus appendiculatus. More specifically, a beauteous bounty of bulbous Butter boletes. Everything goes better with butter!"
These boletes are found in the early autumn under hardwoods like Tan-oak. All Alex would say is he found them south of Gualala within one mile of the Mendonoma Coast. Lucky guy!
Rick and I found this beautiful, big Queen Bolete late yesterday [the cap is darker than it looks in the photo - it's quite dark brown], Coccoras are nearly everywhere, and more Matsutakes are peeking up under the duff. What a great mushroom year we are having!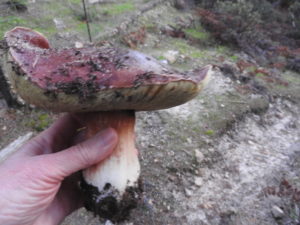 Thanks to Alex for allowing me to share his photos with you here.