That's the title of David Arora's pocket field guide to mushrooms. And as he lives on the Mendonoma coast, pretty much all foragers here have this guide. Here are some mushrooms that have recently arrived on our property in Anchor Bay.
First I was happy to find a couple of Queen Boletes a few days ago. They have a darker cap than the Kings, and their stem isn't as fat. They are delicious. When I trim them and remove the sponge underneath the cap, I gather up the trimmings and scatter them outside in suitable habitat - yes, I'm hoping for more!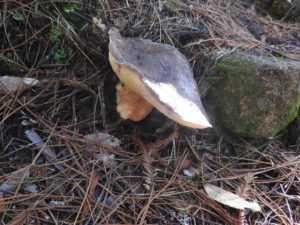 Also fruiting in abundance now is the edible amanita, Coccora. These mushrooms have a deadly lookalike, so you must be extremely careful with  your identification. They are nicknamed "Creamy Tops," as one of their characteristics is a cottony-like white top. You can scrape it off with your finger.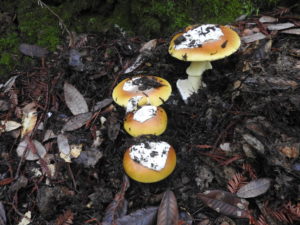 The Fly Amanitas are also up in abundant numbers. I love watching these mushrooms evolve as they grow. Arora will tell you they are edible if you parboil them twice, throwing out the water between boiling. I find them in sunny spots here.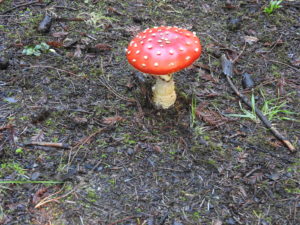 In this basket I also have Matsutakes. They are so distinctive, with their cinnamon smell. They grow in sandy soil.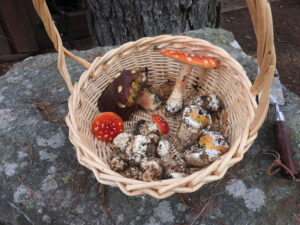 The wonderful rains have brought back mushrooms after five sub-par years. For the many critters in the forest that feast on them, including we two-legged critters, we rejoice in their return.
David Arora has a mushroom event coming up soon. To learn more, here is his website: http://www.davidarora.com/events.html