On Wednesday we had high surf warnings. So Rick and I, with our golden retriever Sunny, headed for Hearn Gulch to see if the blowhole was in action. It was!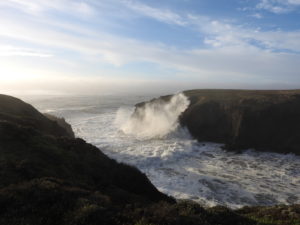 Here's a short video of the blowhole going off. I didn't capture much of the noise because of the loud ocean noise up on the bluff. It just booms when it goes off like this, a big WHOMP!
Hearn Gulch is found just north of Iversen Road in Mendocino County at mile marker 10. To learn more about it, here is the link to the Redwood Coast Land Conservancy - http://www.rc-lc.org/ You can also learn about Cooks Beach and the Gualala Bluff Trail. Thank you, RCLC!