Jackie Baas found the first Boletus edulis, King bolete, of the season about two weeks ago. Here's the beauty that popped up in an area she has never found one before.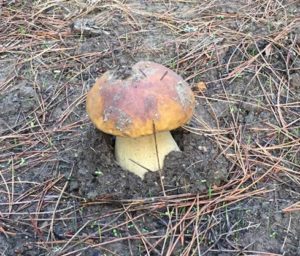 Since then we've had more rain and now the King boletes are abundant. Irma Brandt found a very fertile area last week.
One of the most delicious edible mushrooms, they are so fun to find. Look for them near Bishop pine trees.
I spotted the first Fly amanitas two days ago, and two Coccoras are peeking up under the duff in our forest. Tiny mushrooms are appearing in masses. Oh, it's so fun to have this early rain and have the mushrooms appear!
Thanks to Jackie and Irma for allowing me to share their photos with you here.