I took this photo of the Gualala River from the Gualala Bluff Trail just before the rains came. You can see it was very low and the sandbar is huge.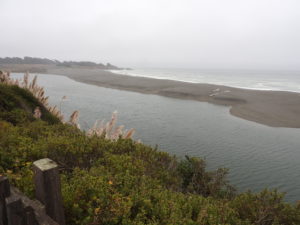 Bob Rutemoeller photographed the river after the rain, an amazing difference. The Gualala River has been closed to the Pacific Ocean by a huge sandbar for months. With enough rain, the river will burst through the sandbar, but that will have to wait for another day as the river is still closed.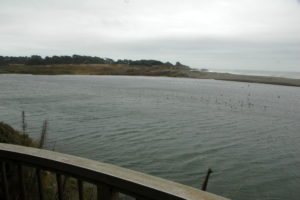 For now, we have sunny, warm weather. This would be a perfect time to kayak or canoe on the Gualala. But once another storm brings rain, you won't want to be anywhere near or on the river. It's an amazing spectacle. Here is a short video taken by Dane Behrens a few years ago when the river opened. It's titled "Standing Waves." Tree trunks, steelhead, pretty much anything in the river gets thrust into the ocean at an extremely rapid speed. Fun fact: when the river is closed by the sandbar, the mouth is called a lagoon. When it's open, it's called an estuary.
Thanks to Bob and Dave for allowing me to share their photo and video with you here.