Jane Simmonds found a tagged Monarch with the numberB2838, and an email address on September 14th in her garden at Annapolis. Jane reported her sighting, writing, "There were two [Monarchs], one tagged and one untagged. They were loving the zinnias." It was a particularly fun sighting for Jane, as it was her birthday.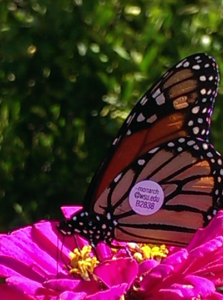 Dr. David James of Washington State University wrote Jane back. He was thrilled, as he had reared this male Monarch. He told Jane the tag was extremely light and positioned near the center of gravity of the butterfly. The butterfly was released from Yakima, Washington.
Dr. James is studying the migratory routes taken by Monarchs from the Pacific Northwest. He says there are a few thousand tagged Monarchs, and he wouldn't be surprised if others were seen here. But so far Jane's sighting is the only one of one of these tagged Monarchs.
Thanks to Jane for allowing me to share her photo with you here.