Jackie Sones spotted this sand dollar washed up on the beach, with unusual Barnacles on it.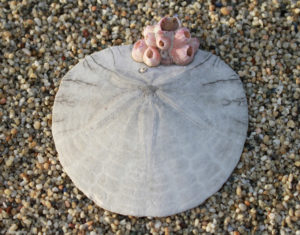 Jackie has been finding a few sand dollars on beaches in Bodega Bay with red and white barnacles on them. With the help of barnacle experts Bill Newman and Bob Van Syoc, the barnacles were identified as Paraconcavus pacificus, a rare sighting of barnacles usually seen south of Monterey. Jackie thinks Manchester Beach has potential as a possible place to see them.
Jackie has a wonderful blog post showing how these barnacles were identified and you can read it at this link: http://bodegahead.blogspot.com/2016/09/unexpected-plate-appearance.html?utm_source=feedburner&utm_medium=email&utm_campaign=Feed%3A+TheNaturalHistoryOfBodegaHead+%28The+Natural+History+of+Bodega+Head%29
Thanks to Jackie for allowing me to share her photo with you here. Doug Forsell found a sand dollar with barnacles this past week at Manchester Beach and we are waiting for Bob Van Syoc to take a look at it. I will report back!
Absolutely stunning day here on the Mendonoma coast. It feels like a gift.