This is the time of year we see Monarch Butterflies in greater numbers. Richard Oba photographed one nectaring on Pacific Madrone.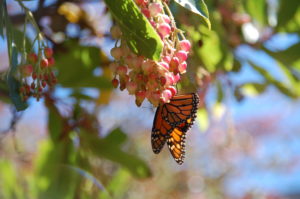 The butterflies we are seeing now are the long-lived Methuselah generation. They live about seven months, and they are the ones who migrate south.
Once the winds die down - yes, it's been very windy on the coast - we should be seeing many of these magnificent butterflies in our gardens.
Thanks to Richard for allowing me to share his photo with you here. To report Monarch sightings, and participate in citizen science, go to https://www.learner.org/jnorth/